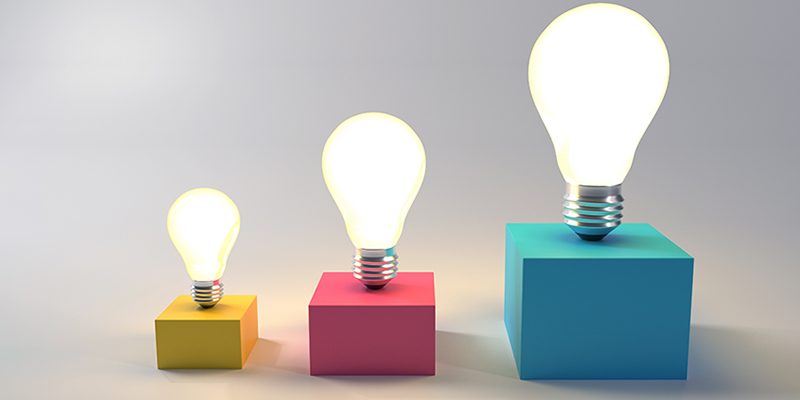 In the retrofitting business, buying the right audit software, or more comprehensively, "retrofit software" can determine where your company is heading – toward healthy growth, hitting a plateau, or going down the tubes.
After all, retrofitters spend their days selling and installing efficient and sustainable technology to others. Shouldn't the tools we use for our own business reflect those same values?
Selecting the right software to scale your business comes down to maximizing efficiency.
However, the precise technology you need isn't going to just drop out of the sky. Even with Amazon delivery drones, you first need to place an order.
And to do that, you need a process for selecting the right tools to grow your business at scale.
Here's a look at one way to select the technology and tools that best fit your needs:
Define and build your core processes.
Identify what problem you want the tool/software to solve.
Get buy-in from the stakeholders and people who will be investing in and using the new tool.
Use Core Processes to Build Your Foundation
Everything starts with identifying what service you intend to provide your customers at scale.
My company, AGES Consulting, decided to focus on helping multifamily housing complexes benefit from efficient lighting solutions, both new and retrofits. Our clients range from third-party management companies to portfolios that manage billions of dollars of real estate across North America.
As you know, efficient data collection is at the heart of best practices for running smooth lighting audits. But smaller retrofit install companies' methods of gathering data can be archaic. Too many rely on a blend of pencil and paper, multiple Excel documents and the like.
By identifying exactly what you need done, you start to see precisely what you need that new tool to help you accomplish.
To continue our example above, gathering complete and accurate data on a jobsite is essential to your ability to price out a job correctly. You need to scope the work, identify applicable products and tally units, manhours and more. The old-school ways of paper and pencil introduce a whole slew of problems and inefficiencies, from human error to the need to punch handwritten notes into a laptop back at the office.
For auditing on the fly, you want an easy-to-understand and simple to use solution capable of giving you exactly what you need – a method of capturing data accurately.
Identify What Your Lighting Audit Software Needs To-Do
Once you understand the most common or important processes you need performed, it's time to assess what technology and tools you already have in place.
For example, your sales funnel may not be a concern because you're happy with your customer relationship marketing (CRM) solution, and in our case access to a leading commercial real estate database. So, there's no need to shop for either of those resources.
But when shopping for technology, especially something as crucial as audit/retrofit software, you'll want to keep in mind four key areas to explore:
Integration. How important it is that the tool works with other technology currently in place? What systems must it link to, and with which systems does compatibility matter less?
Scalability. What is installation going to be like? Will the technology be cloud-based or on-premises? How well does a technology work with five users? With 10? 35? How much flexibility does the tool offer in terms of scaling out?
Reliability. What do independent reviewers say about the product? When there are problems, how accessible and helpful are customer service and tech support?
Maintainability. Does the tool function properly under most conditions? How durable is it? How intensive is training? Does the tool add enough value on a small scale to warrant wider use?
Acquire and Maintain Buy-in From Stakeholders
It's important to ensure that the people who will be using the technology are part of the selection process. Is there anything worse than investing in software and training on a new technology only to have team members throw up their hands and go back to their old, less efficient ways?
Whether you succeed or fail at having a new technology adopted can hinge on whether you get the right people involved in the selection process. In this case, the right people are the actual users.
These users become your quality assurance team. If a certain product doesn't make their jobs easier and their work more efficient, then they will gladly eliminate that product from consideration.
The next step is to brainstorm with your team to identify the top three solutions you will put to the test. Request demonstrations and consider potential methods of piloting the final solution if needed.
Typically, after evaluating the demonstrations, company backgrounds and drilling down on the most important functional use cases, the best fit solution should be clear. Prior to taking additional steps, get in touch with direct references of the vendor's solutions (be wary of vendors who struggle to provide references as this may be indicative of the lack of wide market adoption).
Should questions or proof steps remain, some vendors can arrange a pilot or "proof of concept" period to test out the items still in question. Some vendors may charge a small fee to cover the training and support during this period which will help prepare your team for the eventual roll-out to the entire group or company.
Ultimately, you'll select the solution that best meets the greatest number of needs for the greatest number of users with the best quality of support. Now that's what you call efficiency at scale.