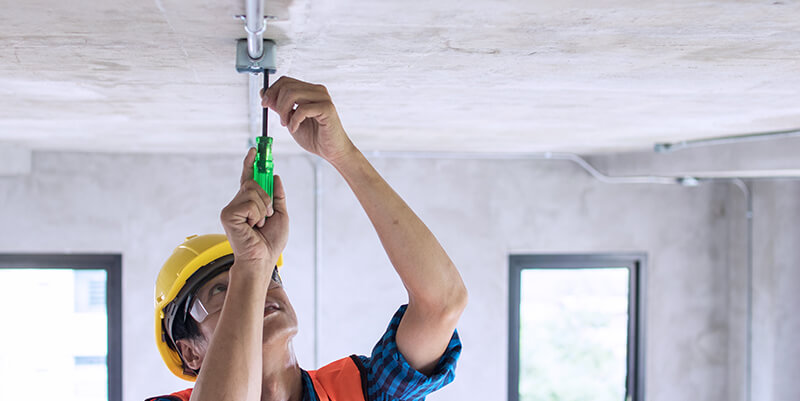 When I co-founded Future Energy Group and we first entered the lighting retrofit business almost a decade ago, one of the first things we realized was that organizations needed help with identifying opportunities for cost reductions, energy savings, and utility incentives.
Devising a retrofit strategy was one thing; implementing it – promptly, without disrupting the business of an organization – was another thing entirely.
The problem was a lack of qualified labor.
We realized that many of the electrical contractors we were working with weren't familiar with LED lighting. This meant we found ourselves project managing a lot of the installations. So, we started offering a turnkey approach, where we would subcontract to different electrical contractors in our area, focusing on experienced, specialized ones who knew how to work around people and get things done on time.
I'm what you might call a "general contractor of lighting," and that means I have frontline insight into the labor shortage that has plagued the lighting retrofit industry since the beginning. My work involves turning retrofitting opportunities into reality, and a major part of that is finding people with the knowledge, vision, and drive to ensure a project proceeds smoothly from start to finish.
While good people are needed to execute lighting retrofit projects in America's hospitals, schools, offices, and factories, vast experience with LED lighting isn't necessarily a prerequisite. More important is a willingness to learn, understand, and explain how modern lighting technology – including the latest internet-connected controls – can help organizations achieve their goals more efficiently and profitably.
Why Is There a Retrofit Labor Shortage?
As an older generation of workers retires, fewer younger candidates are available to take their place. The result? The American economy is experiencing a general labor shortage that touches nearly every industry. In one way, this is good news for qualified workers, but the severity of the shortage is now contributing to missed deadlines and increased pressure on existing workers.
The trend has been observed in the retrofit industry, as well, creating a challenge for businesses like ours that rely on high-quality employees to deliver first-rate results. There may be more opportunities for lighting retrofits than there are skilled professionals and businesses to serve them.
What Professional Roles Are Available in the Retrofit Industry?
The most immediate need in the retrofit industry is for project managers. Many organizations won't tolerate disruptions to their operations during a retrofit.
If you're doing an installation at a facility like a hospital or manufacturing center, they're operating 24 hours a day, seven days a week. We need project managers that understand how to get things installed smoothly.
Surveyors are also in demand. These are the people with solid knowledge of current lighting technologies who can help conduct audits of buildings at the initiation of a retrofit project. With the need for precision high, it's been our experience that surveyors trained on the SnapCount platform have provided the most value.
Another growing need is for experts in lighting controls.
Control strategies can positively affect the payback of a project and utilities often offer special rebates for advanced lighting controls, so you can really differentiate yourself by understanding them.
It's also important to remember that not all jobs in the retrofit industry are directly involved in installations. Salespeople, bookkeepers, marketers, and account managers are all critical in this fast-growing market.
Consider how important logistics can be for a major installation. You're working with multiple manufacturers, tracking orders and shipments, making sure things are delivered on time. Getting this right is so vital, that we recently hired someone whose sole focus is to manage logistics, shipping, and coordination between lighting manufacturers and our installers.
What Do Retrofit Business Owners Look for in Talent?
Job qualifications will vary by role. But there are a few common characteristics that retrofit business leaders should look for in their partners, subcontractors, and employees.
First is an educational mindset. A full lighting retrofit can be a substantial undertaking that represents a significant break from your client's old way of doing things ("grabbing lightbulbs over the counter"). A good candidate for a retrofitting job will be prepared to teach your clients about the value of a complete upgrade.
I always look for people who are willing to learn and reeducate the customers – people who understand the big picture, who are able to educate our clients on the value and cost savings of our projects.
General business expertise is another big plus. We look for workers who know their way around office software and who know the fundamentals of how things work.
People who excel in sales and business development will always be in high demand. With sales cycles that can stretch from 12 to 18 months, we often have a hard time retaining good salespeople.
Surprisingly, direct experience in the lighting industry is relatively low on my wish list. An understanding of technology and an interest in energy saving strategies is, of course, important. But with the pace of change in the lighting industry, experience from just a few years ago may not be entirely relevant.
How Can Entrepreneurs Pivot Into the Lighting Industry?
Not all entrepreneurs are driven entirely by profit. Many are driven to make a difference for their customers, their communities, and the world. The lighting retrofit industry checks all those boxes (and has enormous growth potential, as well).
If people out there want to get involved with a feel-good industry, this is definitely one of those industries. Where else can you say, "We helped companies save 20 million kilowatts last year"?
Technology-oriented entrepreneurs may also find a natural home in the retrofit business. Many people in the IT space are coming over to lighting now because of the Internet of Things (IoT). It's been transformative; facility directors and IT directors are actually communicating now on projects, where before, they were always divided.
How Can Businesses Connect With Certified Retrofitting Professionals?
Recently, Future Energy Group had an opportunity in Mexico, but couldn't send someone down in a timely fashion to conduct an audit. But we were undaunted. We leveraged our network to connect with a Texas-based retrofitting professional who was able to represent Future Energy south of the border.
The Texas auditor completed his work using SnapCount, the leading cloud-based retrofitting software solution. And the fact that we used SnapCount gave us instant credibility with the customer.
Over the years, we've made use of the SnapCount community many times, networking with other professionals and learning about business opportunities.
Already, SnapCount provides access to SnapSource, an online marketplace that quickly and efficiently connects retrofitters to lighting manufacturers. Now, the makers of SnapCount are planning to launch the SnapSource Labor Marketplace, which will help retrofitting companies overcome the labor shortage by connecting them to certified professionals.
For example, a West Coast-based retrofitting business could use the SnapSource Labor Marketplace to find a SnapCount-certified auditor to initiate a project all the way over on the East Coast. With this instant access to a reliable source of qualified talent, businesses will be able to expand their markets in exciting ways and take advantage of new and profitable business opportunities.