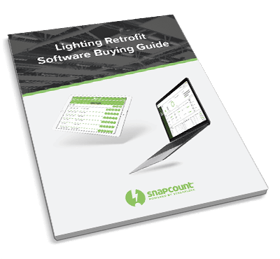 Consider what it will take for your organization to grow and be more profitable. Can you specify projects accurately with the audit data you gather? Does your team have the tools to be efficient? Do your proposals have the detail and visual impact to close deals?
If you're not answering, "Absolutely!" to each of these questions, you might be wondering if lighting retrofit software can make your business more efficient and more profitable.
The SnapCount Lighting Retrofit Software Buying Guide can help. This guide walks you through the many questions you need to consider, such as:
What are the pros and cons of keeping the status quo, developing your own solution, or buying retrofit software?
What business challenges can retrofit software help you solve?
How do you choose the right vendor and persuade your company to make the switch?
Fill out the form and get your lighting retrofit software buying guide today!