The demand for electric vehicle charging stations is growing by leaps and bounds. If you're not including it as a part of your energy audit process, you could be leaving money on the table each time you take on a new project.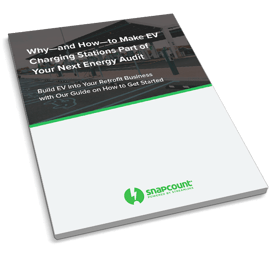 But where should you begin? How should you lay the groundwork for a successful EV charging project? What kinds of chargers are there, and which ones do your customers need? And what tools will you need to make sure an EV project runs smoothly?
To help you answer these questions and more, we've created a guide to the "how" and "why" of EV charging station projects. Download the e-book to discover:
The differences between the three levels of charging stations (and how to know which is right for your customer)
How installing even a single EV charging station for your customers could lead to more business in the future
How to avoid the three most common mistakes retrofitters make when proposing EV charging station projects
Fill out the form to learn more about EV charging stations today!