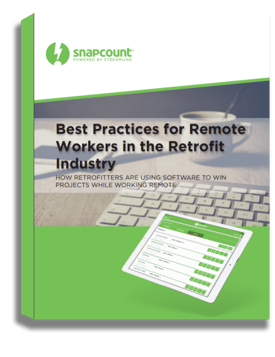 In an industry with as many nuances as lighting retrofit, it's hard to believe that it is possible to successfully complete a project from end-to-end without all parties interacting on location and face-to-face.
But times indeed are changing. In a world that has gone near full-digital, high-growth retrofitters are succeeding in completing retrofit projects with members of their team working off-site or remote. And in scenarios where workers are forced to work remotely for travel or emergencies, these same teams are capable of completing various phases of a project without skipping a beat.
If you're a lighting and energy retrofitter looking at ways in which to implement remote work into your organization, or if you're a remote worker yourself, read on as we explore the following best practices:
Examining the best day-to-day habits of remote workers
How remote workers utilize normal commute time to enhance skills and learn new technologies
How to be prepared and successful when you or your team is forced to work remotely
Download the whitepaper to learn how you can prepare your organization for explosive growth after an economic downturn.