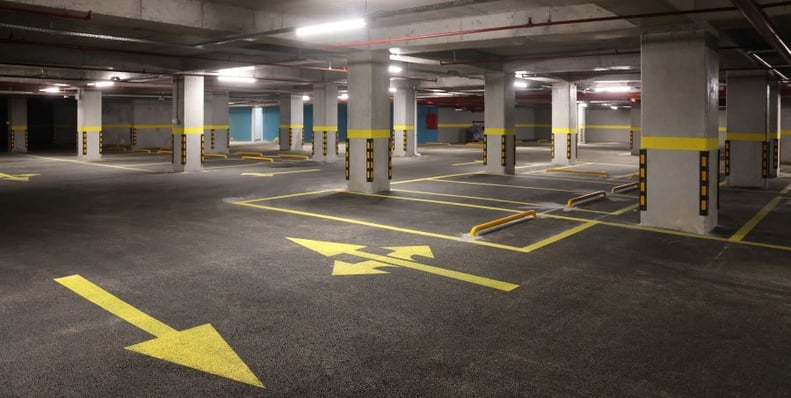 America may have as many as eight parking spaces for every car, and a large proportion of those spaces are contained in corporate parking structures.
Considering the average parking space consumes 180 square feet of space, plus additional square footage for entrance and egress, parking garages may represent one of the most significant—and overlooked—opportunities for LED lighting retrofitters in the market.
As with interior lighting, however, parking garage lighting isn't just about illumination. It's about fostering a certain type of environment: Building owners want people to feel safe while walking to and from their vehicles. At the same time, they don't want to waste their energy dollars lighting empty lots and unoccupied stairwells.
This is why parking garage lighting retrofit projects can feel like a balancing act, with energy savings on one side and safety, security, and compliance on the other…making them the perfect fit for today's LED lighting.
Parking garage lighting retrofit projects can feel like a balancing act, with energy savings on one side and safety, security, and compliance on the other…making them the perfect fit for today's LED lighting.
If your LED lighting retrofit company is beginning to explore parking garage lighting projects, there are a few things you need to know to ensure your projects go smoothly and provide the energy efficiency and safety improvements your customers are looking for.
During last year's SnapCount Retrofit Showcase, we heard from Lynnette Schaeffer, LC, Training Manager for EiKO Global, on the topic of "Exploring Opportunities in Garage Lighting." As people head back into office buildings and as parking garages begin to refill, we thought now would be the perfect time to revisit this promising opportunity for lighting retrofit businesses.
Here are the key takeaways from Schaeffer's talk:
Different Areas of a Parking Garage Require Varying Lighting Levels Throughout the Day
Schaeffer was quick to point a common misconception about garage lighting:
"When it comes to parking garages…it's common to assume one uniform light level will fit night or day, but that's not actually the case. As a matter of fact, IES [the Illuminating Engineering Society] recommends a low light level for basic lighting for parking areas and a higher light level for ramps, and higher still for entrances."
According to Schaeffer, ramps and entrances should have higher light levels during the day to help the eye adapt, with slightly lower (but not too dim) levels at night, for the perfect combination of visibility and safety.
By choosing light fixtures built for advanced controls and wireless connectivity, LED lighting retrofitters can easily define and fine-tune areas of varying luminosity.
"So, you've got the motion sensor, you've got the daylight sensor, and you can adjust your brightness levels," Schaeffer said, describing some of EiKO's offerings, which can be connected and managed through a "simple and intuitive" wireless mesh network called Xi-Fi. "You can create zones and groups, and all those fixtures will remember their settings."
Above-Ground Areas Pose Unique Challenges
Many parking structures include a deck or above-ground area that is exposed to the outside environment.
"In any above-ground parking structure, design can be a challenge because it's often open to the sky, which usually requires the use of poles," Schaeffer said. "In a retrofit situation, it can be difficult to achieve that uniform light and still meet the design requirements."
Schaeffer said the solution might be as simple as choosing LED HID replacement lamps for roof decks and other exterior areas. EiKO suggests choosing options that can replace up to a 600-watt HID. Some fixtures are available in a 480-volt option, which can replace nearly any traditional HID lamp.
"These are available in omnidirectional, horizontal and high bay configurations, and these are great for shoeboxes, wall packs, high bays or even post tops," Schaeffer said.
Well-Lit Stairwells Are Critical for Safety
To prevent trip-and-fall accidents and improve personal safety, many organizations keep their parking garage stairwells brightly lit at all times. If your customer prefers that the lights never go out on their stairwells, LED light fixtures can still provide significant energy savings over conventional bulbs.
But options also exist to dim stairwells—or even certain floors—when they are unoccupied. Schaeffer highlighted one such option that uses wireless connectivity and advanced controls to anticipate someone's journey between floors. The technology is capable of relaying signals through concrete.
"If somebody was to walk into the second stairwell, the third and first stairwell would actually come on at the same time," Schaeffer illustrated. "So, anybody walking up and down the stairwell would already have the lights above and below illuminated."
Exterior Lighting Regulations Vary From Place to Place
As soon as your lighting retrofit project reaches the exterior of a parking garage, you'll run into design requirements mandated by that particular municipality. Be sure you understand the local regulations before choosing LED lighting products.
"Sometimes, new floods or wall packs will do the trick," Schaeffer said. "Other times, finding decorative exterior fixtures can be expensive."
Replacement HID lamps – such as the ones described in the section above about roof deck lighting – can be a good choice for exterior lighting, Schaeffer said. She also suggested seeking out products with UV-resistant glass to avoid the unsightly discoloration that can occur with conventional exterior lighting technology.
DLC Premium Represents the Best in Parking Garage Lighting Retrofit Technology
Most of the LED lighting solutions Schaeffer recommended have earned a Premium rating from DLC (DesignLights Consortium). DLC describes its premium rating as a "higher-performance classification for luminaries and retrofit kits."
"The Premium classification is intended to differentiate products that achieve higher energy savings while delivering light quality and controllability performance that exceed DLC Standard requirements," DLC writes.
In addition to seeking out products with excellent DLC ratings, Schaeffer also suggested helping your customers protect their investments by choosing products from manufacturers that offer extended warranties. For example, her company, EiKO, offers warranty periods of up to 10 years.
SnapCount Will Keep Your Next Parking Garage Lighting Retrofit Project on Track
Whether your company has completed dozens of parking garage projects, or you are bidding for your first one, SnapCount lighting retrofit software can help you manage the project smoothly from audit to installation.
Find out how much your retrofit business can save using SnapCount with our instant ROI calculator.