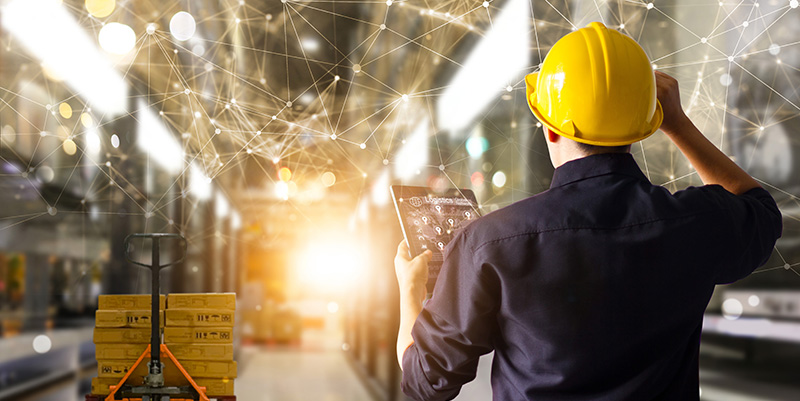 There were over 12 billion devices connected to the Internet of Things by 2021. By 2025, the IoT will have over 27 billion endpoints (according to IoT Analytics).
Lighting technology will account for a large percentage of those new IoT devices. Will your retrofit company have a hand in installing them?
IoT lighting is a natural offering for lighting retrofitters. IoT solutions are designed to achieve many of the same goals as LED lighting, such as energy efficiency, cost savings, and improved working conditions. Smart IoT-enabled controls can also be used to optimize lighting and other environmental factors—such as heating and cooling—which boosts the ROI of retrofit projects.
If your retrofit business is considering adding IoT lighting to your proposals, this article is for you. We'll present three strategies for selling IoT solutions as part of a lighting retrofit project. But first, we'll define the Internet of Things and explain its transformative value for you and your clients.
What Is the Internet of Things?
For years, the Internet of Things (IoT) was talked about as the next big step in the evolution of information technology. By bringing internet connectivity to everyday objects, IoT would transform inert spaces into smart buildings. Enabled by IoT data and controls, the humans who inhabit those smart buildings would become more efficient, informed and comfortable—even healthier.
Well, we no longer have to talk about the Internet of Things in speculative terms because the IoT revolution is here now.
Oracle defines the internet of things as "the network of physical objects—'things'—that are embedded with sensors, software, and other technologies for the purpose of connecting and exchanging data with other devices and systems over the internet."
IoT-enabled devices can range from kitchen appliances to automobile components to wearables to, yes, lightbulbs and lighting controls. Combined with emerging technologies such as machine learning, big data and artificial intelligence, IoT systems can anticipate and react to people's needs, creating environments that are truly "smart."
For example, an IoT lighting system might:
Use lightbulbs embedded with sensors to collect occupancy data and feed it into a centralized IoT platform where building owners can analyze the data and use it to optimize their energy use.
Automatically adjust the lighting in a room based on the number of occupants, their activity, and the time of day (for example, working with machinery during the day versus cleaning up after hours).
Lower the lighting when there is plenty of ambient sunlight and increase the lighting when there is less sun. (This is called daylight harvesting.)
Doubtless, more innovative uses for IoT lighting will arise as the technology matures ... which means now is the ideal time to begin selling your clients on IoT's potential. Here are three strategies for adding IoT-enabled smart lighting systems to your retrofit proposals:
1. Suggest Using Energy Savings to Finance IoT
Lighting is the "low-hanging fruit" when it comes to energy efficiency. Compared to other systems, such as heating, it's relatively easy to replace conventional lighting fixtures with LEDs, and the ROI can be dramatic. But once the retrofit is over, it's over. Building owners may never have the same opportunity again to gain so much efficiency with such a straightforward project.
Your customers can use that efficiency gain to pay for smart building enablement. Instead of financing IoT elements as a pure cost somewhere down the road, your clients can harness the ROI from a lighting retrofit project to future-proof their buildings.
Of course, your customers may not see it this way. Building owners tend to focus on here-and-now energy savings, which is why it's essential to educate your customers about how the smart building paradigm can help them not only lower their energy bills but achieve many other business goals, such as a more productive, happier, healthier workforce.
2. Position the Lighting System as an IoT Platform
Smart buildings need to gather an immense amount of data of all types to generate the insights that make an IoT investment worthwhile. Various sensors – such as occupancy detectors, temperature and humidity sensors, and light detectors – must be distributed throughout every nook and cranny of a building.
What else can be found nearly everywhere within a building (and also in outdoor areas such as parking lots)? Lighting. A building's lighting system is a ready-made "power grid" for IoT devices. Therefore, it only makes sense for forward-thinking organizations to install IoT solutions during LED lighting retrofit projects.
In the near future, lighting and IoT systems will be viewed as part of the same smart building architecture. So, it's a good idea to start your customers thinking about the possibilities now.
3. Tie IoT Solutions to Current Concerns
As the COVID pandemic (finally) shifts into a less dangerous phase, commercial building managers are thinking about the best ways to keep their returning occupants safe at work. This is a perfect opportunity for demonstrating the value of IoT-enabled solutions.
For example, ultraviolet lights positioned at ceiling height or built into air-handling systems can safely kill airborne pathogens without harming building occupants. Solutions like this, managed and monitored through an IoT infrastructure, can help your clients reopen their buildings confidently while putting mitigation measures in place for the next public health crisis.
Growing Your Retrofit Business with IoT Lighting
The Internet of Things is as much an opportunity for your lighting retrofit business as it is for your customers. Including IoT lighting technologies and other smart building solutions in your retrofit proposals will increase your value to your customers and set the groundwork for future projects as new IoT technology is developed.
Use our free ROI calculator to learn about other ways to generate more revenue and win more projects.