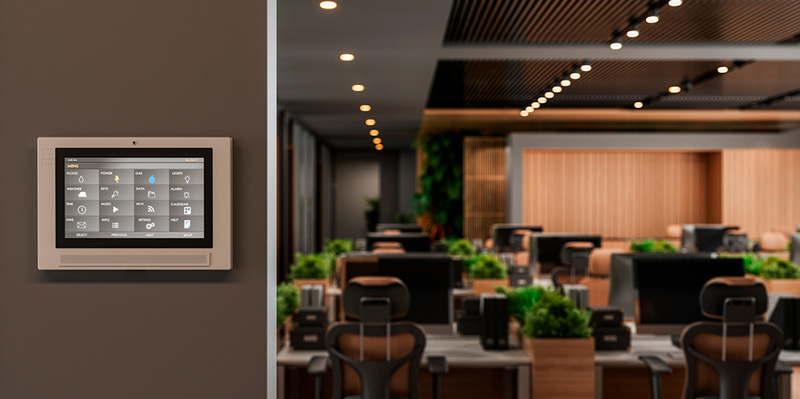 As more and more organizations and businesses prioritize saving energy and reducing their carbon footprint, we've seen the LED retrofit industry continue to grow. But this demand for better efficiency has also spurred on the development of new kinds of technology.
With these advancements have come new opportunities for both you and your customers. Among the most promising? A suite of advanced control solutions that make it easier than ever for your customers to control when and how they use energy.
Let's look at how this technology works and what it means for advancing your business.
What are advanced lighting controls?
"Advanced lighting controls" can refer to any number of devices that provide additional functionality beyond a simple on/off switch. These can include dimmers, motion, occupancy, photosensors, and timers. What all these devices have in common is that they perform specific tasks to reduce energy, increase lamp life, and enhance the ambiance of a lit space by adjusting light levels, setting zones or scenes, and even changing color.
Occupancy and vacancy controls detect motion, or the absence of, to determine when lights should be on or off. Daylight harvesting detects the amount of natural and other ambient light levels in a space and dims the lighting accordingly to maintain a desired light level. Top end tuning is used to prevent a fixture from exceeding a preset amount of its full light output. Timers determine when certain lights can or cannot operate within a preset time frame.
These controls can be stand-alone or can operate with other lighting controls by communicating via a hardwired or wireless networked system. Some Networked Lighting Controls (NLCs) can work autonomously out of the box while others may require meticulous programming to achieve the desired results. NLC's can enable a building manager to control light fixtures from a PC or smart device and even work in conjunction with other building controls such as thermostats and security systems.
The difference between hardwired and wireless advanced lighting controls
There are several advantages wireless controls have over hardwired. These include greater installation fixability, scalability, lower labor costs, and are better suited for hard-to-wire applications. Hardwired controls must be linked by wire to receive the signal from a centralized point of control.
Another factor to consider is that wireless controls require the use of a common protocol, or set of rules, and use short-wave radio frequency bands, such as Bluetooth, to communicate with or through other devices. Because of the low power of the signal, wireless controls typically must be close to each other.
Industry support is also growing for Luminaire Level Lighting Controls (LLLCs). LLLCs combine LEDs, controls, connectivity, and data for a flexible lighting product that can improve occupant comfort and space utilization. Control strategies built into LLLCs include occupancy sensing, daylight harvesting, continuous dimming, color tuning, and more.
Advanced control technology makes it incredibly easy for businesses to reduce their energy consumption. Over weeks, months, and years, that reduction leads to a big long-term payoff.
Why your customers will love advanced lighting controls
While advanced controls do require a little more investment up front, the benefits we've just described make them very appealing. If you have a customer interested in a retrofit project, you already know they want to reduce energy and improve their lighting. With advanced lighting controls, they can take that reduction to the next level. Research shows that a facility's energy is reduced by 67%, on average, by retrofitting to LED alone. An additional 55% can be achieved with the use of advanced controls.
Need more proof? Here's an example of a hypothetical retrofit project created in SnapCount, showing a side-by-side comparison of energy savings: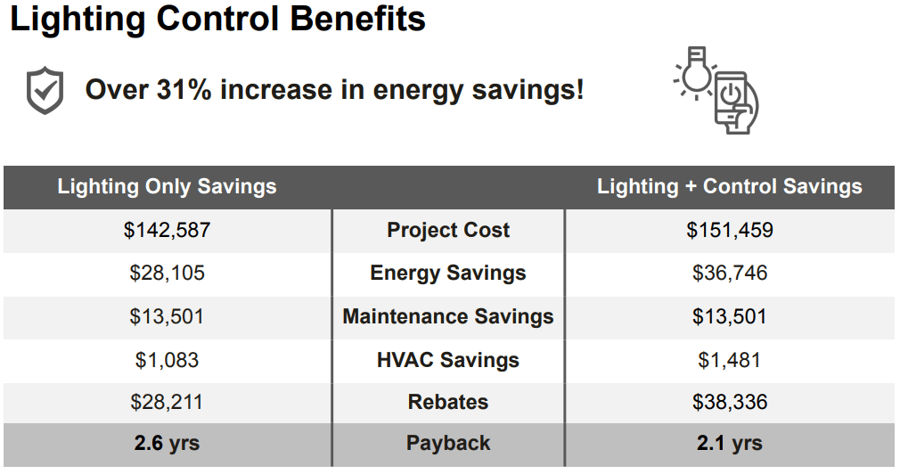 We'll talk more about SnapCount in a moment. For now, this illustration is intended to show a side-by-side comparison of how adding advanced controls can improve the already substantial savings offered by a retrofit project. Not only do these controls save money and energy, but they also help to shorten the payback period of your customer's retrofit project.
But what if, even after seeing the side-by-side proposals, your customer is still hesitant? No problem! They can choose how fast they adopt the technology. If they'd like to try out advanced controls before they fully commit, you can easily install a set of controls in a single location while laying the groundwork for more down the road.
Once your customer sees how easy it is to use advanced controls to save energy, they'll appreciate that you helped future-proof their fixtures and prepared them for more.
Why (and how) you should include advanced controls in your next project proposal
Of course, advanced controls aren't just great for your customers. They're also great for your business.
When you proactively help your customers save energy and money, it deepens the relationship and helps to build trust. Regardless of whether they choose to install advanced controls, they'll appreciate that you've offered more options.
But if they do choose to install them, it will mean more labor, more materials, and more profit for your business. Offering advanced control options gives you the opportunity to grow your business by selling more on each project. Installing controls also opens an opportunity for you to create a service contract to periodically commission the programming to ensure they are getting the most out of the system and make adjustments as needed.
In other words, advanced lighting controls are a win-win for both you and your customers. So what's the best way to include them in your next project proposal?
SnapCount makes it easy to offer advanced controls to your clients
There are many kinds of advanced controls on the market, each with distinct benefits. But if you're trying to add them into your proposals, it might feel overwhelming (especially if you're working with spreadsheets).
SnapCount is designed to help your business grow by giving you an efficient, accurate way to include advanced controls in your proposals. You can enable an advanced control option within your proposals, allowing you to spec out the specific controls that you need for each fixture within your project and easily add control strategy "layers" that handle all the advanced computation for you.
But another benefit of using SnapCount is that it shows your customers the long-term savings advanced controls offer. Here's another example from the hypothetical proposal, shown with and without advanced lighting controls shown over ten years: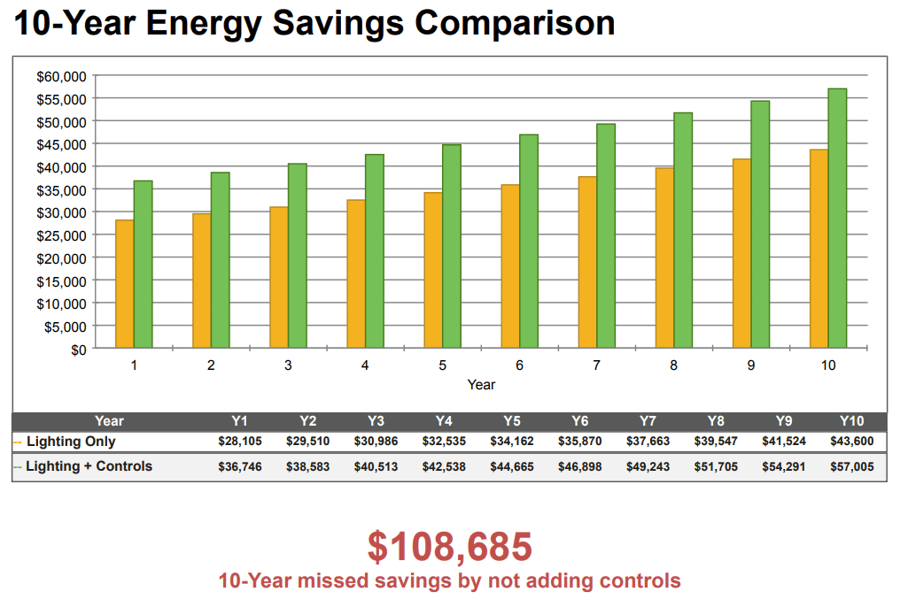 When you let the numbers speak for themselves, your customers will be eager to add these controls to their projects. SnapCount makes it easy to show them the savings.