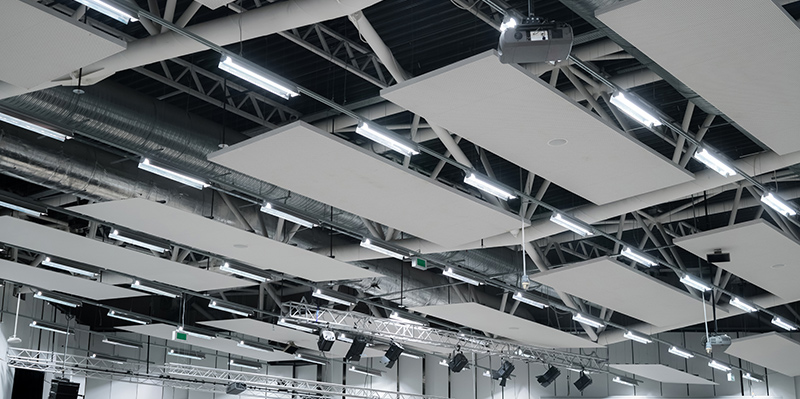 There is rarely a perfect time for a business to take on an operational overhaul; most are perpetually in 'fix the plane while we fly it' mode. However, the 2020 slowdown in the commercial lighting retrofit business due to the pandemic may have had a small silver lining: the opportunity to take on a long-overdue retooling of a retrofit business operation.
We spoke to two companies that did just that.
To discuss what made 2020 the perfect time to transition to a new software to retool their businesses, we spoke with Brad Dulle (Director of Engineering) and Frank Agraz (Senior Director, Strategic Initiatives) from Eco Engineering, along with Dimitri Papadakis (Chief Operations Officer) from STS Lighting Services Inc.
What problems were they trying to solve by retooling their commercial lighting retrofit software?
Eco Engineering had an existing software backbone that had come to the limits of its capabilities. For the company to gain the needed features that would allow them to progress to the next level operationally, it would require significant time and expense. They were at a classic 'build or buy' crossroads and decided to do some research to explore their options.
And STS Lighting Services? They were struggling with the consistency and accuracy of initial audits. The auditor, the sales team, and the installer all needed to have confidence they could deliver a project with the maximum return on investment. They knew if they had a good audit from the beginning, if everyone was on the same page in what they were trying to accomplish, and if progress was being tracked in a shared and consistent way, they would have a good and profitable installation. No Excel spreadsheet-based system could get them there.
What made them decide it was the right time to retool?
For Eco Engineering, the normal pace of business was driving income, which would always take precedence over internal projects. That pace did not offer the opportunity to reset and question if they were doing specific steps in their process because that was the right way to do things or if it was due to the requirements of their existing software.
Once they decided to transition to a new system and processes, the slower pace of business due to COVID-19 allowed them time to fully explore things.
"Part of the trade-off with the slowdown is that it's given us a chance to tap into feedback from engineering and sales teams. They've been able to look around, run through the paces of some of our test audits, and kick the tires. Their participation in the evaluation and feedback process helped the company tighten up the rollout and internal training."
- Frank Agraz, LC, MIES
STS Lighting Services did not experience any fall-off of business this year. In fact, it was the opposite. They were growing by pursuing larger energy service companies (ESCOs) that operate on a multi-state basis. However, they couldn't generate proposals that could make a compelling case to clients as diverse as multimillion square foot industrial complexes, hospitals, multi-unit residential buildings, or big-box retailers. Each of those sectors had a different understanding of how the audit would translate into implementing the solution and needed to be spoken to in the right language. STS Lighting Services had the opportunity to grow, but not the tools.
Which features drew them to SnapCount specifically?
Both STS Lighting Services and Eco Engineering explored other software options before deciding to partner with SnapCount. Ultimately, both companies discovered that the features and support offered by SnapCount best fit their needs and business goals.
For STS Lighting Services, SnapCount's end-to-end capabilities have opened up a new revenue stream.
"I can keep my team busy doing audits, knowing that for every hundred audits, maybe ten will transition into an installation within six to nine months. I have access to more clients from a product and service that my team is already trained to use."
- Dimitri Papadakis
The fact that STS Lighting Services can offer this service separates it from competitors that do not utilize such a comprehensive auditing and install solution. With their foot already in the door as the auditor, it's easy for the client to ask STS Lighting Services to project manage the install, manage the team out in the field, and complete the project under budget. Having SnapCount allows the company to market itself as offering not just auditing, but also project management, installation service, and a client portal.
In Eco Engineering's case, they had a legacy in-house solution that had been tweaked to be just what they needed. That was fine until the owner declared a new vision and goals for the company based on other business phases. After examining what it would take to update and develop the legacy system to meet the owner's vision, they realized they needed to look at other platforms. Ultimately, they found that the functionality they needed was only available within SnapCount.
One big draw for Eco Engineering was SnapCount's mobile audit tool. Additionally, access to certified SnapCount auditors means they can use SnapCount to push audit requests to auditors outside of their own organization who are already trained and bring substantial lighting knowledge.
"Of all the solutions we looked at that did have a mobile audit tool, we felt that SnapCount was the most developed and easiest commercial lighting retrofit software to use."
- Brad Dulle
Another big draw for Eco Engineering? SnapCount's existing subscriber base. Every suggestion, question, and critique from subscribers has led to user-driven improvement over time, resulting in a system that's better for everyone. While Eco Engineering may have given up the built-just-for-you customization of a homegrown system, they have gained a partner—and an entire community—available to answer questions and offer technical support.
How does retooling their commercial lighting retrofit software help their company grow?
STS Lighting Services observes that many retrofit companies are currently experiencing a backlog in materials, and client budgets for retrofit projects are being re-allocated for things like generators and equipment. The market is changing, and retrofitters need to be able to offer a better mousetrap.
"For retrofitters, it's important to offer your client added value during times like this. Before, you may have been complacent with providing just A, B, and C to your client. Now you may have to offer A, B, C, D, E, F, and G. SnapCount has allowed me to separate myself from other companies and has given me more visibility in the field for projects occurring onsite a thousand miles away. That's a competitive advantage."
- Dimitri Papadakis
Eco Engineering selected SnapCount to help with three strategies—standardization, simplification, and automation —which they believe will be key to growing the business and becoming more successful and more functional as a group.
On the business case side, Eco Engineering believes if you don't partner with a third-party platform, you're likely to be at a competitive disadvantage, regardless of your size. Focusing on what you do best and letting the experts be the software developers allows you to free up time and resources that will be better spent on core retrofitting business activities.
Yes, Now Can Be the Perfect Time
Maybe your pressures are internal, coming from inefficient internal processes and the limitations of legacy systems. Or they may be external, coming from a marketplace reacting to a seismic shift in demand and priorities.
Or maybe it's both.
Either way, now may be the right time for a retooling. Ultimately, this crisis will end, and retrofitters will want to be primed to take advantage of the opportunities coming down the road. If you're considering a solution like SnapCount, check out our client success stories for inspiration.