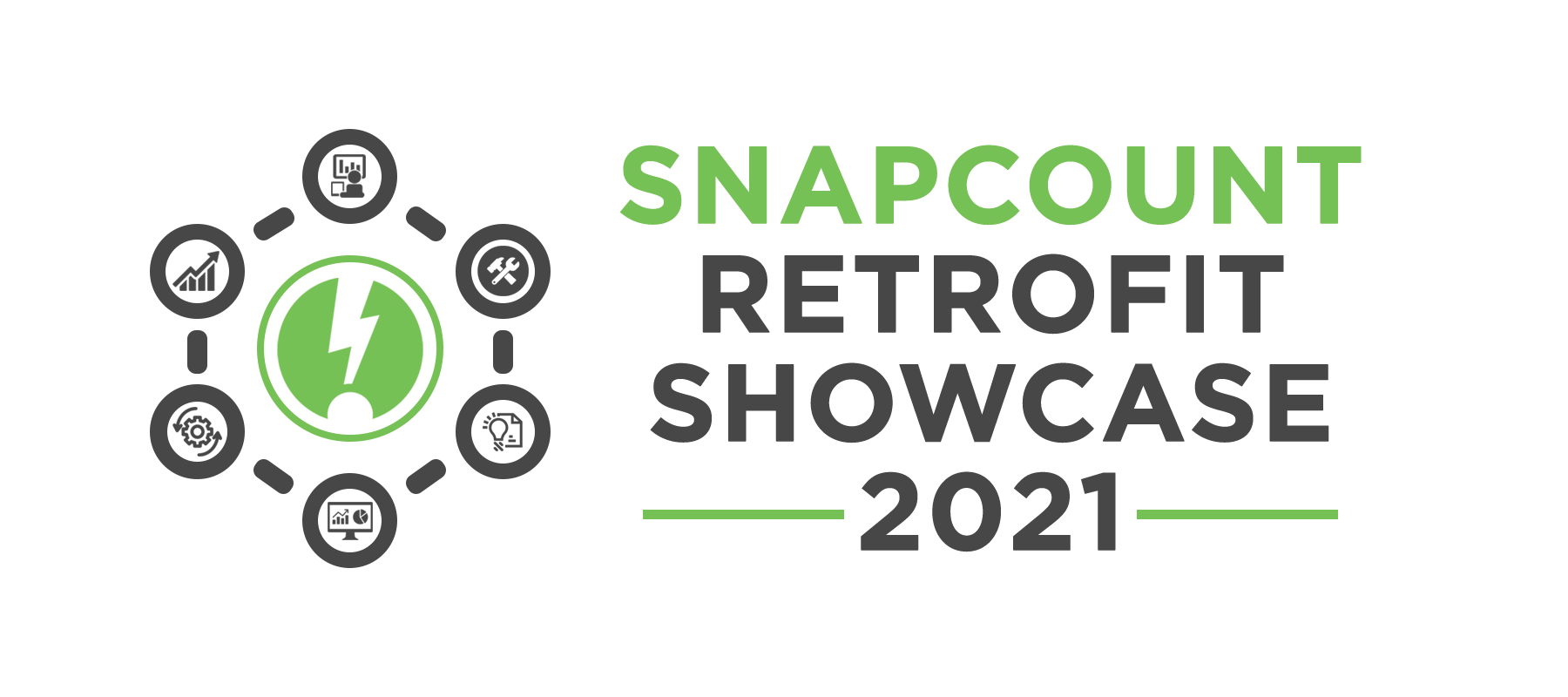 The SnapCount Retrofit Showcase 2021 was another huge success. But if you had other plans and couldn't make it, don't worry. One of the perks of an online conference is that you can always go back and revisit video recordings of the sessions you missed.
We brought the SnapCount Retrofit Showcase back this year by popular demand – and because of the speed at which the retrofit industry changes, there's so much new ground to cover.
This year's conference brought attendees the latest in the world of retrofit. Expert presenters covered up-to-the-minute innovations and techniques, such as the importance of digitizing your retrofit operation. A roundtable of industry insiders looked at where the LED lighting retrofit business is now and where it's headed as the world emerges from the pandemic.
Other fascinating sessions focused on adding value to your retrofit services by including electric vehicle charging stations and winning more deals by partnering with top-tier ESCOs.
Whether you're a retrofit industry veteran or just getting started, represent a large firm or a small team, there was something for you in the SnapCount Retrofit Showcase.
Here are our top takeaways from the conference (along with links to complete video recordings):
Takeaway #1: Embrace Technology in All Aspects of Your Retrofit Business – Or Risk Falling Behind
What is the retrofit business all about, if not modernization? A retrofit project invariably involves replacing outdated technology with newer, more efficient alternatives. The initial investment pays for itself over time (and then some) through lower energy costs, increased productivity, and a safer workplace, for starters.
Retrofit businesses should take their own advice to heart. So argues Frank Agraz, Senior Director of Strategic Initiatives at Eco Engineering, in his presentation, "The Time for Digital Transformation Has Arrived in the Retrofit Industry."
Your retrofit business may be overdue for a digital transformation, Agraz says. He defines digital transformation as a process and "an ongoing journey" of using digital technology and strategy to generate "breakthrough value."
According to Agraz, a digital transformation will help your business:
Delight the customer.
Grow your company's net worth.
In his presentation, Agraz identifies five transformative digitization trends in the retrofit business, explores why digital transformation sometimes fails to take hold, and offers practical steps forward.
Words to Remember
On convincing senior management that digital transformation is essential:
"If you're not changing, someone else is going to be changing. By not moving forward, by standing still, you're actually going in reverse."
– Frank Agraz, Eco Engineering
Takeaway #2: Need More Business? Partner With an ESCO
The COVID-19 pandemic brought many industries to a temporary halt, but energy services companies (ESCOs) kept on going, full-steam ahead.
This shouldn't be surprising. Given the significant investments in human capital and infrastructure needed to sustain a high level of project development activity, major ESCOs maintain a robust pipeline.
This year is shaping up to be an even stronger year for ESCOs, thanks partly to a renewed federal focus on energy efficiency and clean tech backed by billions of dollars in public and private funding. The ongoing labor shortage will stretch ESCOs thin, however – that's where your retrofit business comes in.
In their presentation, Tim Unruh of the National Association of Energy Service Companies (NAESCO) and Charles McGinnis of Johnson Controls make the case that ESCOs need electrical and lighting contractors to fill the gaps. This is a major business opportunity for retrofitters in 2021.
"Finding New Retrofit Opportunities Through ESCO Partnerships" covers both what ESCOs look for in their subcontractors (such as NAESCO accreditation) and the value of ESCOs to retrofitting businesses. The latter includes:
Increased geographic reach.
Access to more complex projects.
New business opportunities.
On-the-job upskilling.
One great place to land your first ESCO partnership is the SnapCount Service Marketplace, where you can register yourself as a SnapCount trained professional and get found by ESCOs that use SnapCount.
Words to Remember
On what an ESCO can do for you (that you probably can't do for yourself):
"If you're running a business that's really focused on lighting, you might think, 'Why don't I just go and build my own direct sales organization?' We have, at any time, 90 or 100 salespeople. They spend 75% of their time prospecting…As a lighting partner, you really leverage your reach with an ESCO."
– Charles McGinnis, Johnson Controls
Takeaway #3: There's Hope on the Post-Pandemic Horizon – But We're Not Out of the Woods Yet!
"What's next?" is the question on everyone's mind as the COVID-19 pandemic (hopefully!) winds down. We can't answer the question for everyone, but participants in the 2021 Retrofit Roundtable had more than a few expert predictions for those in the retrofit business.
The good news is that business is starting to come back. According to a SnapCount poll of audit data, April 2021 saw a more than 200% increase in the number of audits performed year-over-year throughout the SnapCount network.
Some challenges remain, however. For example, material backorders are slowing manufacturing. Retrofitters should expect delays and should be able to communicate those delays to customers to set expectations.
In a wide-ranging discussion, the experts on the 2021 Retrofit Roundtable addressed these challenges, as well as the most promising opportunities for 2021 and beyond – including new digital technologies and emerging lighting products.
Words to Remember
On the importance of an ongoing conversation among contractors, distributors, and manufacturers for smoothing over supply chain issues:
"Nothing is worse for a manufacturer than for me to place an order for 1,000 fixtures, and they go, 'Oh great, they want 1,000 fixtures,' but also, 'Oh geez, we've got 1,000 fixtures now that we've got to find a way to build.' Forecasting and trying to share that information and being in a position where we're exchanging information is always very helpful."
– Brad Picht, National Category Manager for Graybar Electric
Takeaway #4: Electric Vehicles Offer New Business Opportunities
What do electric vehicles have to do with energy-efficient lighting? Both offer growth opportunities for retrofit contractors as the modern push for sustainable energy use gains momentum.
Brian McKinnon, Senior Channel Sales Manager for ChargePoint, the world's largest network of independent electric vehicle charging stations, says that no major industry will change more over the next 20 years than transportation.
As McKinnon pointed out in his presentation, "How to Incorporate an EV Charging Station Offering in Your Retrofit Business":
Governments are enacting aggressive policies to curb emissions. U.S. President Joe Biden has proposed investing $15 billion to reach 500,000 charging stations nationwide by 2030.
Automakers such as BMW, Daimler, General Motors, and others are investing billions in developing new electric vehicle models that are more efficient and less expensive for the consumer.
Consumers and corporate fleets are powering a shift to electric vehicles. In less than a few decades, we'll likely all be driving electric.
In his portion of the presentation, McKinnon explains how your LED Lighting retrofit business can make the most of this profitable opportunity by adding EV charging to your service offering. We also unveiled support for EV charging specification and quotation to the SnapCount platform.
Words to Remember
On why the future of transportation is fully electric:
"These cars cost less to maintain, they cost less to fuel, and they're a better driving experience. So, once drivers switch to electric, they never go back to gas."
– Brian McKinnon, ChargePoint
Takeaway #5: Sustainability Metrics Are Becoming Just as Critical as ROI
A top goal for many of those in the retrofit business is landing larger projects. How can you demonstrate value to large companies to win multi-location, national retrofit programs?
They don't come much larger than Intel, the world's leading semiconductor manufacturer and a household name.
The second to last session of the SnapCount Retrofit Showcase 2021 had dual presenters: Jason Hakes, the AMR Energy Conservation Program Manager at Intel; and Lynn Hawkins, CEO of Sustainable Turnkey Solutions. The two men discussed what made their companies a perfect fit for each other as Intel sought to roll out LED lighting across its many facilities.
The session was entitled, "Perspectives of a Facility Director: How Contractors Gain Credibility with their Customers."
One insight that stood out in the conversation is that for Intel, like many organizations these days, the lighting retrofit project isn't merely about ROI. Intel sets high sustainability goals, and facility directors are tasked with determining how to meet those goals.
Hawkins noted that, even six months ago, he would have considered sustainability a "soft goal." But now, even Intel's CEO is talking publicly about achieving 100% renewable power and absolute carbon emissions reductions by 2030.
Sustainable Turnkey Solutions has made itself a key player in Intel's efforts by acting not just as contractors but trusted experts with knowledge of the latest sustainable lighting technology.
Words to Remember
"We have a company full of experts. The thing is, they are experts in building processors, or they're experts in manufacturing, but they aren't necessarily experts in every little part of an energy conservation project. So, what we're looking for…is, can we find a partner who can fill in the gaps of the things that we don't know?"
– Jason Hakes, Intel
Takeaway #6: SnapCount Can Support Your Process from Start to Finish
Anyone who participated in the SnapCount Retrofit Showcase 2021 came away full of ideas on expanding a retrofit business in the modern marketplace, increasing efficiency and boosting customer satisfaction with digital tools, and securing larger, more multifaceted projects.
As your business grows, you need software that will help you put all these new ideas into practice. That's why the final session of the showcase was an overview of SnapCount, the industry-leading retrofit software.
"Leveraging SnapCount For All Turnkey Retrofit Project Needs" demonstrated how SnapCount goes beyond the typical audit, quote, and proposal workflows to encompass the entirety of a retrofit project from start to finish and even showcased new EV charging functionality.
SnapCount is a full lifecycle platform for turnkey retrofit projects. SnapCount helps users:
Collect audit data digitally on mobile devices.
Solution the audit with material, labor and HVAC savings.
Find additional savings through advanced controls.
Identify rebates.
Deliver visually stunning proposals.
Order products through SnapSource.
Manage and track the status of a project.
Close out a project.
Words to Remember
On replacing "clunky" and "unprofessional" spreadsheet-based proposals with SnapCount:

"Now that we are on SnapCount, our proposal completion time has dropped by about 50% per proposal, based on time studies that we have done."

– Justine Menn, TPI Efficiency

Find out how much you can save using the SnapCount savings calculator.