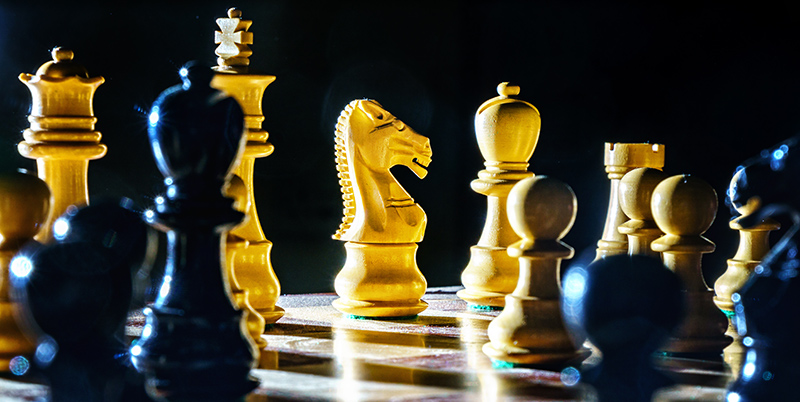 You've already accepted the idea that SnapCount is the best available lighting and energy retrofit software, and you've begun using SnapCount to audit, propose, and implement retrofit projects far more efficiently than with previous workflows. How can you keep moving in the direction of even more efficiency?
One way is to refine your day-to-day use of SnapCount by progressively implementing some of the best practices identified by the SnapCount Customer Success team and by power users across North America, many of whom are reporting productivity gains of up to 70%.
In addition to my own tips and tricks through my tenure here at SnapCount, I also reached out to my longtime colleague, Christine Mallula, for her favorite strategies. Here is what we came up with.
Be Smart About Being Mobile
One of SnapCount's strongest productivity features is the ability to use the mobile application while in the field. At times there can be a lack of Internet connectivity, for example in the bowels of an industrial facility or in a remote location, and this can become a crux for workflows dependent on maintaining connectivity.
We have good news for you. Yes, the SnapCount tablet application does not need to be connected to Internet connectivity when performing your site data and media collection. When you're done with your audit or just taking a break, you can simply connect the mobile app to the Internet and sync to the cloud.
Another tidbit of goodness is to ensure that you are logged into the mobile app before arriving onsite. The mobile login process verifies your login credentials on the cloud, and as noted above, the audit site may have limited to no Internet connectivity. Once you're logged into the mobile app you can disconnect from the Internet or put the device in Airplane mode.
Bring a Juice Pack
SnapCount users tend to use their devices heavily all day and having a little extra "juice" in your bag can make all the difference in the world to your productivity.
Although the rumors are true about how I steal my daughter's Capri Suns, I am talking about bringing a spare power bank or two that allows you to recharge your mobile devices at any time. These power banks are inexpensive, compact, reliable and can be sourced at just about any retailer that sells electronics.
You don't necessarily need to be connected to Wi-Fi or your cellular data when onsite to do productive work… but you do need a charged device.
Use the System, Not a Spreadsheet
It's perplexing when we hear stories of a site audit being performed with the mobile app and then export the audit data to a spreadsheet to prepare their quote/proposal. Doing extra steps is key to productivity, said no one…
Manipulating data outside of SnapCount negates the value it brings to over 4,000 users! By keeping the data in SnapCount from site audit through project implementation, the risk of error in data transition will be alleviated and you'll have a record of everything all in one central place. As we all know too well, the scope of customer requirements and project implementation can change frequently. If you don't have this data in SnapCount (the system of record), it may lead to future issues when trying to reconcile information for your team, your customer, or a third party.
Keeping all that information in one digital location is just so much more efficient and enables you to get the most from your investment in SnapCount.
Know Your (Workflow) Status
Sometimes our users, especially those who are just getting started with SnapCount, don't use the workflow status feature. For example, they don't move the SnapCount workflow from proposed to won when opportunity has been closed-won.
Data is priceless in this digital age and keeping the data up-to-date is paramount when trying to turn that data into useful information. If your sales pipeline data is outdated, then how could you trust the data to make informed decisions or provide reporting to management?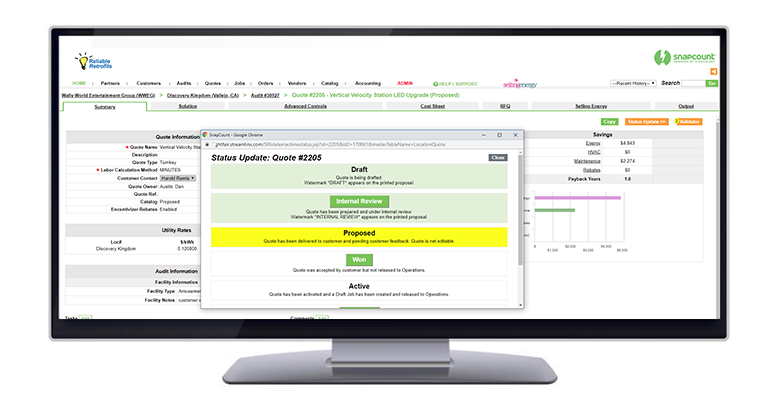 Energy retrofit sales cycles can be very lengthy — it could take year(s) sometimes to close-win a bid. Even the proposal development process could be several months between conducting the audit, delivering the proposal, and actually starting the implementation. With good documentation and proper workflow status management, you'll be able to quickly understand the status of the proposal, review your notes and comments, and pick right back up again without missing a beat. It's the best way to efficiently navigate long sales cycles.
Leverage the SnapCount Customer Success Team
The SnapCount product is the market leader in the value it brings to the marketplace, but the added bonus of your subscription is having the SnapCount team there to help you win more projects efficiently.
Our Customer Success team continuously provides world-class support to the userbase through phone calls, emails and communication through the support portal. Along with day-to-day support, the Customer Success team conducts weekly free training, product notifications, new feature webinars and more with the intent to make sure your SnapCount experience is second to none.
The whole point of these webinars, blogs, and release notes is to make our users more knowledgeable and efficient. It's always a best practice to take advantage of that knowledge stream and attend these webinars, because there's so much to learn about the product.
We also highly recommend you take advantage of your Customer Success Manager (CSM). We strive to create proactive relationships. Of course, you can always turn to your CSM reactively when you need help with something. But you can also be proactive by getting to know your CSM before you run into challenges. This will give your CSM an idea of the kind of specific work you'll be doing, and they can keep an eye out for you for new features or workarounds we're developing that might be particularly relevant or helpful for you.
Building a relationship with someone who not only understands your organization but also the broader industry can even help you make better decisions for your business. We want to know what you're planning and where you're going, or if there's something specific that's bothering you. Fairly often we'll know about a solution worked out by other users in similar situations, or we can share other resources that might be useful. We're on your side, so take advantage of us.
Simply put, many of these SnapCount best practices come down to trust: trusting the solution, trusting your colleagues, and trusting the customer success team. We have been working together for years to make SnapCount the most reliable, efficient and effective lighting and energy retrofit software available, and we have the knowledge and features needed to make your team successful.
If you're interested in taking your use of SnapCount to the next level, click here to contact a member of the SnapCount certification team.